The Czech Economic Review, Vol. 9, No. 1
19/10/2015
A new issue of the Czech Economic Review is available online. See table of contents:
Articles
Climate Change, Collapse and Social Choice Theory
N. Schofield
The Czech Economic Review 9 (1), 7-35
Participation and Solidarity in Redistribution Mechanisms
J.-M. Giménez-Gómez, Josep E. Peris
The Czech Economic Review 9 (1), 36-48
Robust Turnpikes Deduced by the Minimum-Time Needed toward Economic Maturity
D. Dai
The Czech Economic Review 9 (1), 49-73
To view, download, or recommend a single article, click on the article title. To unsubscribe, please fill in the form in the left column (Table of Contents Alert) on the journal homepage.
Our SJR score has increased
30/06/2015
Scopus and Scimago have released the SJR 2014 scores. Our score has increased from 0.155 to 0.176, which qualifies us into Q3 of field journals in Scopus.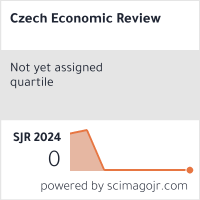 Citations in impacted journals
27/02/2015
At the moment, the Web of Knowledge identifies citations to the CER from the following journals:
ECONOMICS
ECOLOGICAL ECONOMICS
ECONOMIC RECORD
ECONOMIC MODELLING
ECONOMICA
ECONOMIC SYSTEMS
EMPIRICAL ECONOMICS
ENERGY ECONOMICS
EUROPEAN JOURNAL OF POLITICAL ECONOMY
GAMES AND ECONOMIC BEHAVIOR
GROUP DECISION AND NEGOTIATION
INTERNATIONAL REVIEW OF FINANCIAL ANALYSIS
JOURNAL OF CULTURAL ECONOMICS
JOURNAL OF ECONOMIC PSYCHOLOGY
JOURNAL OF MATHEMATICAL ECONOMICS
LEX LOCALIS-JOURNAL OF LOCAL SELF-GOVERNMENT
MATHEMATICAL SOCIAL SCIENCES
SOCIAL CHOICE AND WELFARE
TECHNOLOGICAL AND ECONOMIC DEVELOPMENT OF ECONOMY
THEORY AND DECISION

REGIONAL ECONOMICS
ASIAN ECONOMIC JOURNAL
BALTIC JOURNAL OF ECONOMICS
CZECH JOURNAL OF ECONOMICS AND FINANCE
ECONOMIC RESEARCH-EKONOMSKA ISTRAZIVANJA
ECONOMICS OF TRANSITION
EKONOMICKY CASOPIS
EURASIAN GEOGRAPHY AND ECONOMICS
POLITICKA EKONOMIE
POST-COMMUNIST ECONOMIES
PRAGUE ECONOMIC PAPERS
ROMANIAN JOURNAL OF ECONOMIC FORECASTING
SCANDINAVIAN JOURNAL OF ECONOMICS

INTERDISCIPLINARY
ANNALS OF OPERATIONS RESEARCH
ATMOSPHERIC RESEARCH
CENTRAL EUROPEAN JOURNAL OF OPERATIONS RESEARCH
CHAOS
CONTROL AND CYBERNETICS
ENGINEERING COMPUTATIONS
EPL
EUROPEAN PHYSICAL JOURNAL B
FLUCTUATION AND NOISE LETTERS
INTERNATIONAL JOURNAL OF COMPUTATIONAL INTELLIGENCE SYSTEMS
INTERNATIONAL JOURNAL OF INFORMATION TECHNOLOGY & DECISION MAKING
INTERNATIONAL JOURNAL OF INTELLIGENT SYSTEMS
INTERNATIONAL JOURNAL OF UNCERTAINTY FUZZINESS AND KNOWLEDGE-BASED SYSTEMS
JOURNAL OF CIVIL ENGINEERING AND MANAGEMENT
MATHEMATICAL AND COMPUTER MODELLING
METALURGIA INTERNATIONAL
OMEGA-INTERNATIONAL JOURNAL OF MANAGEMENT SCIENCE
OPTIMIZATION
PHYSICA A-STATISTICAL MECHANICS AND ITS APPLICATIONS
PLOS ONE
RENEWABLE & SUSTAINABLE ENERGY REVIEWS
TOP
WASTE MANAGEMENT
WATER RESOURCES MANAGEMENT
IDEAS/RePEc Simple Impact Factor
27/02/2015
Out of the economics journals published in the Czech Republic, the CER has the following position measured by the IDEAS/RePEc Simple Impact Factor:
529. The Czech Economic Review 0.934
624. Czech Journal of Economics and Finance 0.678
639. Prague Economic Papers 0.639
936. Bulletin of the Czech Econometric Society 0.192
978. Politická ekonomie 0.164
1395 journals are listed in January 2015 ranking. Only journals with 50 or more papers and at least one citation are considered. The full ranking is available here.
RePEc (Research Papers in Economics) is a volunteer-driven initiative to create a public-access database that promotes scholarly communication in economics and related disciplines. The database contains information on about 1.4 million research pieces. RePEc is providing ranking of leading economic journals by so called simple impact factor (a ratio of citations by the number of items in the journals, citation counts being adjusted to exclude citations from the journal considered).
Scopus SNIP 2013 Ranking
27/02/2015
By SNIP 2013, CER ranks 599th in Scopus out of 804 journals in Economics, Econometrics, and Finance (Category No. 2000). This locates us exactly on the boundary of the third and fourth quartiles. See also the updated Scopus title list.
Recently citing journals (Scopus, 2013-2015)
26/02/2015
ECONOMICS
Annals of Operations Research
Asian Economic Journal
Czech Journal of Economics and Finance
Decisions in Economics and Finance
Economic Modelling
Economica
Economic Systems
Ekonomicky casopis
Empirical Economics
Energy Economics
European Journal of Political Economy
Global Finance Journal
Human Systems Management
International Game Theory Review
International Review of Financial Analysis
Journal of Common Market Studies
Journal of Cultural Economics
Journal of Economic Psychology
Lex Localis
Romanian Journal of Economic Forecasting
Scandinavian Journal of Economics
Socio-Economic Review
Technological and Economic Development of Economy
Waste Management
INTERDISCIPLINARY
Atmospheric Research
Entropy
Fluctuation and Noise Letters
International Journal of Computational Intelligence Systems
Journal of Applied Mathematics
Journal of Liaoning Technical University (Natural Science Edition)
Kongzhi yu Juece/Control and Decision
Optimization
Physica A: Statistical Mechanics and its Applications
PLoS ONE
Renewable and Sustainable Energy Reviews
Xitong Gongcheng Lilun yu Shijian/System Engineering Theory and Practice
The most cited articles according to Harzing's Publish or Perish (since 2007)
26/02/2015
29, A Behar, Tax Wedges, Unemployment Benefits and Labour Market Outcomes..., 3(1)
19, DY Kenett et al, Dynamics of stock market correlations, 4(3)
17, L Krištoufek, Rescaled Range Analysis and Detrended Fluctuation Analysis..., 4(3)
16, SZ Alparslan Gok et al, Some characterizations of convex interval games, 2(3)
16, MO Hosli, Council decision rules and European Union constitutional design, 2(1)
16, F Turnovec, New Measure of Voting Power, 1(1)
12, J Babecký, Aggregate wage flexibility in new EU member states, 2(2)
12, F Turnovec, National, Political and Institutional Influence in EU Decision Making, 2(2)
11, L Šťastná, Spatial Interdependence of Local Public Expenditures..., 3(1)
10, J Fidrmuc, P Süss, The outbreak of the Russian banking crisis, 5(1)
The most cited articles in Scopus (since 2010)
25/02/2015
11: Kennet, D.Y., et al., Czech Economic Review 4(3), 330-340.
11: Krištoufek, L., Czech Economic Review 4(3), 315-329.
6: Brauers, W.K.M., Czech Economic Review 6(1), 80-101.
4: Zelený, M., Czech Economic Review 4(1), 102-117.
3: Migliardo, C., Czech Economic Review 4(2), 139-167.
3: Nurmi, H., Czech Economic Review 4(1), 5-17.
Online manuscript submissions
11/02/2015
We have launched a manuscript submission site through which we will handle all new submissions. On the site, each prospective author is asked to register his or her email address and then logs into the system. For more details, follow Instructions for the Authors.
The site works on an Open Journal Systems platform.
For local authors
21/01/2015
Given inclusion in Scopus, our estimate of a value of a CER article by the Research, Development and Innovation Council of the Czech Republic is in the range from 14.6 points (if only indexed journals with non-zero SJR count) to 16.5 points (if all indexed journals count).